Volume 46 (2021) From Lockdown to Rebirth
Ellipsis is the University of New Orleans' journal of art, ideas, and literature. Since 1972, we have showcased the scholarly and creative work of UNO students, alumni, faculty, and staff.
We are happy to announce the revival of UNO's Literary Journal Ellipsis, a Journal of Art, Ideas, and Literature. After a three year hiatus, the students of UNO are proud to bring the only journal written, designed, and edited completely by the UNO family back to the presses.
Poetry
Fiction
Essays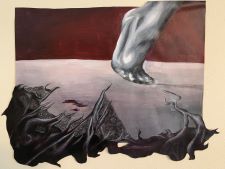 Editors
Rebecca Simon

Managing Editor

Jillian Borukhovich

Associate Editor

Melissa Martinez

Associate Editor

Weronika Raczek

Associate Editor
Cover Art
Her Debut
Michelle Bourgeois (b. 1988) is an artist from the New Orleans area. She graduated with an M.F.A. in Creative Writing from the University of New Orleans in 2021 and received her B.A. from Tulane University in 2013. Michelle also graduated high school in combination with a degree of Fine Arts from the New Orleans Center for Creative Arts (NOCCA) in 2007. She has worked on film set costume design and was a Mardi Gras float artist for some time before returning to school.
DOI
https://doi.org/10.46428/ejail.46